Because you are here it's safe to say that you decided to set up a blog and need a template. A great way to get up and running right away is to use a professionally designed website template made for blogging that comes with the functions and features bloggers commonly need.
Because more and more people are starting blogs we decided to round up an excellent collection of blog website templates! Each template is ideal for sharing your best stories, adventures, experiences, and knowledge. These great-looking themes and templates will work on some of the top website-building platforms like WordPress and WiX.
---
► BEST FREE BLOG WEBSITE TEMPLATES – Explore The Power & Performance of WiX!
Explore Blog Templates by WiX
---
► Which blog website template should I consider?
Some blogging templates are made for a specific theme (food, travel, and tech, etc.) while others are multipurpose blogging templates
However, they are only compatible with the website builder platform the template was specifically created with. For example, a free WiX blog template is designed to only work on the WiX platform.
Each template is made to work with the applications, website editors, or CMS platforms (like WordPress) listed below:
Eventually, you should consider downloading the closest match for what you need and using it to build your upcoming blog on your favorite website-building platform. Remember to first click on each blue button to preview the live demo in action.
Without further delay, here are the best blog website themes and templates that you can customize.
► WiX Website Templates for Bloggers
Firstly, take a look at this clean, 2 columns, minimalistic fashion blog template from the incredible website builder, WiX. Because you can make significant changes to this template when your logged into the WiX editor does not mean you will have to pay for it. That's right, this WiX fashion blog template is free to use.
The WiX fitness trainer template looks bold and provides everything needed to get up and running fast. Start taking appointments for your next class and let the scheduler plugin go to work for you while completing your blog posts. Also, the template can be used for multipurpose sites and includes a blog tab. It looks great on desktop and mobile devices – try it out!
We decided to provide you with a link to the entire collection of WiX blogging templates because you should really see them in action via the demo feature which you can access through the blue button below.
► WordPress Blogging Templates
Astra Travel Blogger & Influencer Template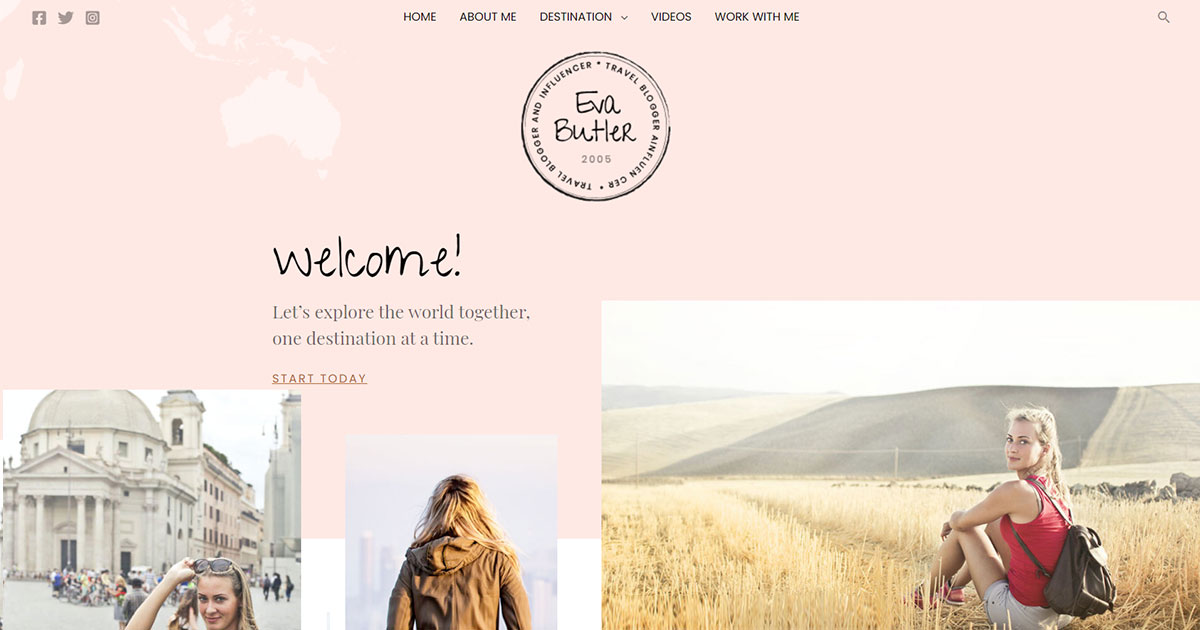 Astra has become a major competitor for theme and template designers because of their incredibly responsive and great-looking templates created for bloggers. The Travel Blogger & Influencer template is a great option for vlogs, YouTubers, influencers, travel tourism blogs, and more.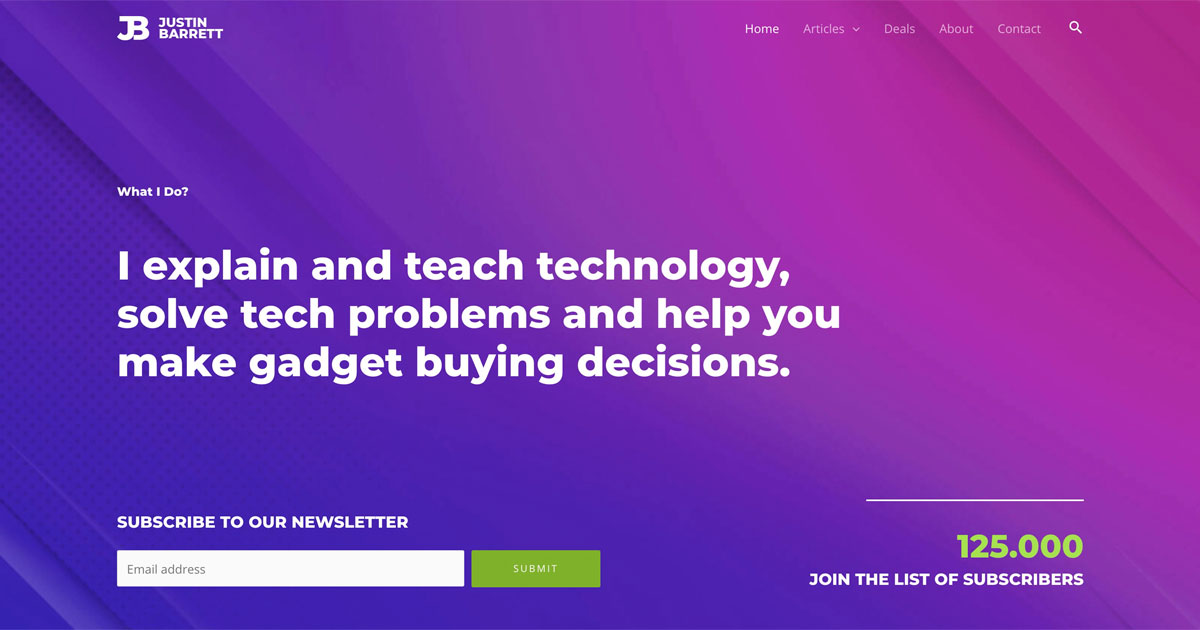 For tech industry bloggers, this is a fantastic option created by Astra. It is smooth and provides enough features and functionality to get those tech readers engaged. However, it is only available for use with the website builder plugin Elementor. Besides this requirement, the template looks amazing and is perfect for tech-related blogs.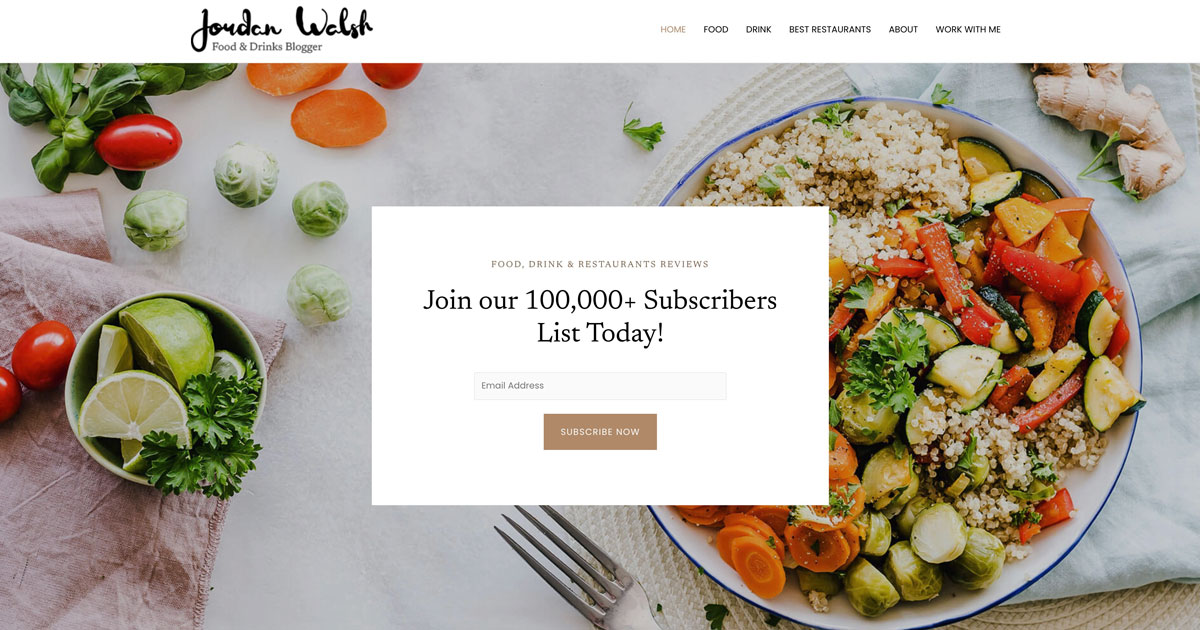 Here's another Astra template designed with a specific theme in mind, and in this case, it's a blog template designed for food and drinks blogs. The appealing design is great for reviews of exotic food and drinks, ethnic food categories, restaurant reviews, recipes, and much more.
Without a doubt, Astra has one of the best and largest libraries of pre-built WordPress websites that work perfectly with Elementor, Beaverbuilder, and WooCommerce. To see the entire collection of templates, head over to their site and try out the live previews of each. Over 1.6m users have chosen Astra themes and templates.
Here is a top-selling Magazine and Blog theme provided by ThemeForest that has a lot to offer WordPress site owners. Also, it's worth noting that this template boasts over 7,000 4.8-star reviews and comes with the ability to integrate seamlessly with Instagram, bbPress Forum, BuddyPress, and WooCommerce.
► Editor X Blogging Website Templates
Certainly, we can not forget Editor X templates. Here's a tech theme option that is a multipurpose website template featuring a clean and direct blogging element. Editor X is part of the WiX family and is backed by the incredible support and a design community. Peace of mind is provided by the power and security of Editor X templates that are backed by the largest website builder, WiX.
Moving forward here's another Editor X website template professionally designed that can be used for many industries as well as for blogging. You have to try the movement and animations in order to see how powerful these Editor X templates really are.
► Site123.com Blogging Website Themes
Here's a cute pet theme for the website builder called Site123.com.
Besides all the cute images seen here, this Site123 template has smooth movement with a parallax scrolling effect. For pet-related blogs, this option is great for showcasing the much-needed images of those adorable pets. Like many blog templates, you'll have a scroll-up arrow, social media icons, a contact form, and more.
This Site123 Beauty Blogging Theme was a well-designed template and a great option for makeup reviews and beauty tips. Moreover, it has a smooth scrolling feature and loads fast. Included are social media icons and a simple contact form to be integrated with your favorite email service. Additionally, you'll get top hosting with Site123.com.
Since we are on the subject of Site123 blog templates, it's well worth it to check out all of their outstanding website templates for blogging. We are confident you'll find a great match for your blog. These are free blog templates available with your subscription to Site123.
► HTML and Bootstrap Blog Templates
Because there are professional web developers and designers who can code we've chosen to showcase some HTML and Bootstrap templates.
LaRead is a powerful blog template that will help you create an awesome blog. You can customize many of its features and use it to beautifully display your information. This is a template that can be used with several website platforms, but you should know how to work with coding language.
Minimaloscope is an excellent theme that you can customize to create powerful websites using the Bootstrap coding language. This premium template includes multiple features which will ease the designing process.
Polo is a massive bundle of over 220 pre-made layouts, providing a quick start to your custom blog designs. Look no further if you need a powerful HTML5 layout that is multipurpose in design. If you're a web developer who understands coding language, this is a great template set to work with for multiple projects!
► Best Blogger Templates
Demi is a beautiful theme with a fully responsive grid layout. This premium template is perfect for creative minds to expose their thoughts online. Even though this is an HTML template, it will only work on the Blogger.com platform.
Here you have an amazing news/magazine blog theme that includes powerful features such as a mega menu, responsive ad slot, sticky sidebars, video section, image slider, etc.
► Tumblr Website Templates for Blogging
Here you have a stunning website template that is highly customizable. This theme includes neat features such as infinite scroll, widgets, social links icons, fully responsive, customizable fonts and colors, and more.
Similarly to the other Tumblr blog templates we've just looked at, the DISQO is a great-looking portfolio and blogging template which includes multiple widgets and neat features that will help you design stunning websites.
This amazing Tumblr blog theme allows you to organize your memories in a very creative manner. Additionally, the vintage scrapbook lets you post images, videos, text, doodles, and just about anything that you desire.
Undoubtedly, here's another Tumblr theme with a stunning design. You can quickly customize its features to create your upcoming portfolio or personal C.V. website. Now, we've covered our final blog template and so it's important to click on the preview button to see it in action.
► Frequently Asked Questions
Why should I use a template for my blog?
Building a website from scratch is a complex task that can take a lot of time and money. That is where these pre-designed templates come in handy. You can benefit from the professional design qualities, without having to spend a lot of time building it yourself or paying someone to do it for you. They are easy to set up, with no website coding required.
What is the best template for a blog?
The best template for a blog is one that has been professionally designed for your niche, can be edited for customizing, and is optimized for SEO purposes like those provided by WiX and Astra.
How do I make my blog look like a website?
It all starts with a theme or template that can be adjusted to incorporate features such as an e-commerce section, an about page, a static homepage, and other elements that display a professional, trustworthy website. Look at other popular sites for examples. However, the key to turning your blog into a website for business purposes is the ability to customize your template.
Where can I use the HTML templates?
You'll see some of our selections that are designed as HTML blog templates or Bootstrap blog templates that can be used on multiple website-building platforms. But, that is not the case for all of them. Therefore, you should first confirm with your website builder before downloading.
Can I customize my blog website template?
Our list of blog templates are highly customizable, so you can still create a unique project regardless of the fact that you are not building your website from scratch.
It's all about the way you choose to edit each feature that truly makes your site different along with your personality and style. And let's not forget about the content, images, and text, which all play an important role.
► Final Thoughts
In summary, we can see that there are so many options available for bloggers to get up and running quickly and have a professionally designed blog. Please keep in mind that each template listed is made to work on specific website builder platforms. So, only choose the one that is compatible with your favorite platform.
Enjoy your blogging adventure and please leave a comment below!